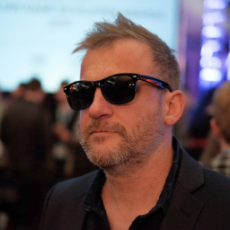 Jamie Telford
Senior Consultant - Visualisation / Technical Artist / VR Researcher
Lives in Auckland, New Zealand

Resume - 2021

Jamie is currently involved in and has accumulated 3 years of experience working as a Senior Consultant in Real-time visualisation in the Architecture, Engineering & Construction industry.
Previous to this Jamie has worked in the Games Industry and has a substantial wealth of knowledge and expertise in art creation, software engineering, production pipelines and production management within the focus of lean and agile methodologies. Currently Jamie lectures in Technical Art, Animation, AR/AR, and Game/Art Production at Animation College and Ames Institute, Auckland, New Zealand.
Additionally Jamie has many years' experience working as an electronics engineer and holds a keen interest in science and technology. He actively researches and consults on future trends of technology and its impact on society, including the implications of moving towards the technological singularity.
Jamie is the Co-Founder of the International Game Developer Association Virtual Augmented & Mixed Realities Special Interest Group (IGDA VAMR SIG), a group with a mantra of diversity, run by developers for developers. The SIG seeks to expand the scope of possible employment opportunities for game dev professionals through promoting the skills and experience of the games industries into the emerging sector of VR/AR/MR and interactive content creation.
The explosion of interest in VR/AR/MR content from many different industries offers great opportunity to participate in a rapidly merging environment that demands multi-disciplinary approaches to creating unique and profound content with the protentional to impact society in ways never seen before.
As part of this initiative, Jamie is also active in the local New Zealand community through the New Zealand Game Developers Association (NZGDA) in a drive to turn the local industry from a $80 million dollar industry into a billion dollar industry.
Jamie is completing his Masters of Creative Technologies within the Auckland University of Technology CoLab facility. The research project is a unique application of VR and Games technology to create a simulation for training Conservation Scientists in their ongoing efforts to preserve the breeding and feeding grounds of endangered humpback whales. This project is being done in consultation with Conservation International and Alaska's Glacier Bay National Park service.